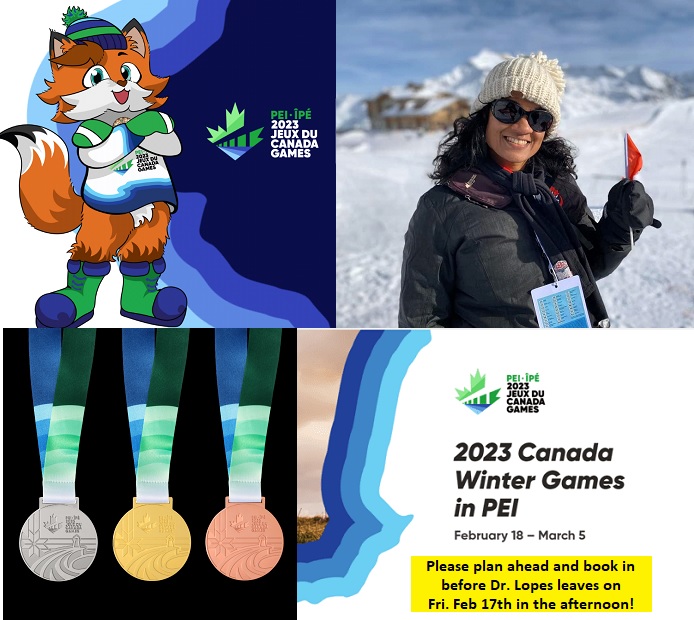 T-11 days till Dr. Lopes leaves for the @
2023.CanadaGames
 in Charlottetown, PEI!  She will be working right till the day of departure on Fri. Feb 17th and returns back on Mon March 6th, and will be available that afternoon. Learn more about her role and what these Games are all about!
🍁 These Games will bring together 3,600 athletes across 20 different sports, for the largest multi-sport event in the country.
🍁 The Canada Winter Games happens every 4 years. The last Winter Games were held in Red Deer, Alberta in 2019, and that's where Dr. Lopes had her first winter games experience.
🍁 This will be Dr. Lopes' 2nd Canada Winter Games, and she is pumped to get back into this setting and volunteering as a Sports Chiropractor.
🍁 Volunteering involves working as a Sports Chiropractor at the Polyclinic, where you work as a team with Sports MD's, Sport PT's, AT's, Sports RMT's and more, to help the athletes.
🍁 In addition, her skills as Sports First Responders are used, where she will be assigned to various venues, to provide emergency care before, during and after competition.  This may mean working indoors in the venue taping an athlete or treating them in between competition, OR outside in the elements to help with any emergency care.
🍁 Stay tuned here to follow along with her journey in the East Coast!
http://www.361clinic.com/wp-content/uploads/2023/02/cwg-post-2.jpg
620
694
Melanie Lopes
http://www.361clinic.com/wp-content/uploads/2016/10/361_logo.png
Melanie Lopes
2023-02-07 16:49:43
2023-02-07 16:49:43
Learn about what Dr. Lopes will be doing in PEI in less than 2 weeks!