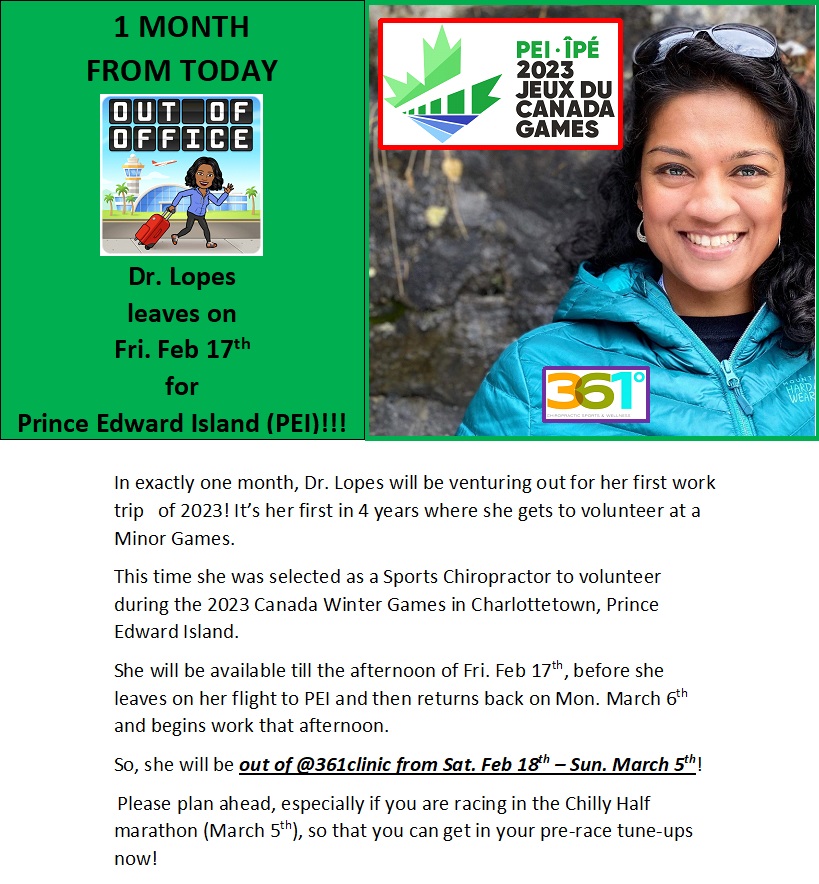 Dr. Lopes is excited to be chosen as a Sports Chiropractor to volunteer at the 2023 @CanadaGames in Charlottetown, Prince Edward Island (PEI). This will be her first Minor Games to attend in 4 years since Feb 2019, and her 2nd Canada Winter Games, and she is pumped! https://www.2023canadagames.ca/
.
🍁 Not sure what the Canada Winter Games are? It is a 2-week event showcasing the very best in Canadian sport!
.
🍁 What does Sidney Crosby, Hayley Wickenheiser, Clara Hughes, Jennifer Heil and Lennox Lewis, Chandra Crawford, Catriona Le May Doan and Jennifer Jones have in common? They were all Canadian Winer Olympic athletes who initially started their career at a Canada Winter Games before making it to the big stage!
.
🍁 So, the athletes you see at these 2023 games could potentially be seen at the upcoming Winter Olympics in Milano Cortina 2026 in Italy!
.
🍁 The 2023 games will feature 3,600 participants, 20 different sports, 26 disciplines, and 174 events – it all adds up to the biggest event in our province's history.
.
🍁 Dr. Lopes will be available for the next month, right up until the day of her departure on Fri. Feb 17th, and will return on Mon. March 6th.
.
🍁 Please plan ahead and stay tuned to learn more about what volunteering at CWG 2023 will entail!
.
http://www.361clinic.com/wp-content/uploads/2023/01/CWG-announcement.jpg
884
819
Melanie Lopes
http://www.361clinic.com/wp-content/uploads/2016/10/361_logo.png
Melanie Lopes
2023-01-17 20:43:51
2023-01-17 20:43:51
Dr. Lopes has been selected as a Sports Chiropractor for the 2023 Canada Winter Games