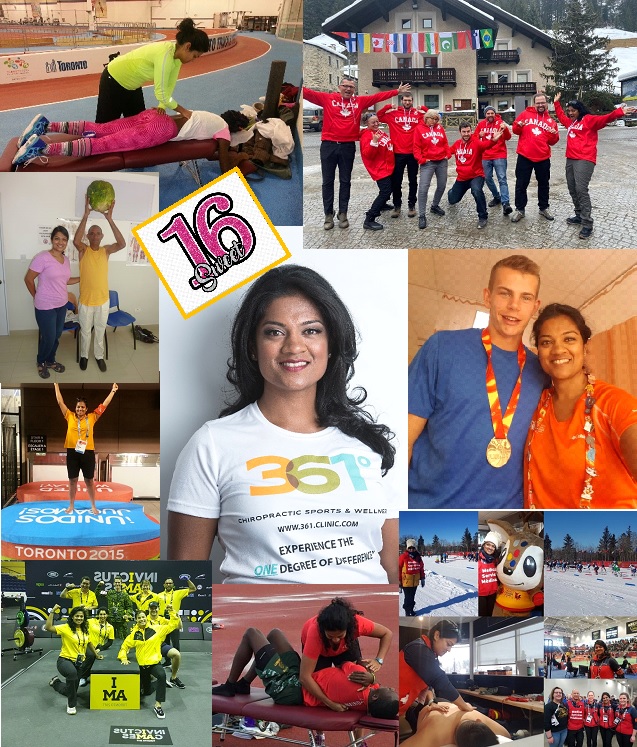 On this day 16 years ago, @DrMelanieLopes graduated to become a Chiropractor. Today she marks her "Sweet 16" which involves many great events and experiences including:
🤩 In 2015 she volunteered at her first international event as a host therapist, which was here in Toronto at the 2015 Pan Am & ParaPan Am Games.
🤩 With the 
Canadian Deaf Sports Association (@assccdsa)
 when she got to volunteer with the Canadian Deaf Track team in 2015 at a training camp in Toronto.
🤩 In 2016 when she volunteered at a clinic with @
WorldSpineCare
 in Moca, Dominican Republic, where she got to improve her Spanish & use her chiro skills.
🤩 In 2016 when she worked with @
AthleticsOnt
 for their winter training camp in Florida.
🤩 In the summer of 2017 when she got selected for her 1st time as a Sports Chiropractor to be on the Core team, to provide care at the 2017 Summer @CanadaGames in Winnipeg, MB.  It was her first Minor Games experience and definitely one that she'll never forget! @austincole_98
🤩 In 2017 she was a Team Leader for the @
InvictusToronto Games 2017
 at the Power Lifting venue. This was also a memorable and one-of-a-kind experience.
🤩 In 2019, she was part of the Core Health Team at the 2019 Winter @CanadaGames in Red Deer, Alberta.
🤩 Her last major event before the pandemic hit was in December 2019 when she volunteered with the 
Canadian Deaf Sports Association
 (@assccdsa) Ski & Snowboard team at @2019WinterDeaflymipcsItaly 
in Valtellina-Valchiavenna
. I got to use my ASL & Sports chiro skills all at once for my 1st Deaf International sport event!
🤩 She can't believe 16 years have flown by, and each year she enjoys learning and applying new information and techniques both with her patients @361clinic and on the field.
➡️ What does she hope to achieve next (in no particular order)? Move @361clinic to a larger space, volunteer at a Commonwealth Games, PanAm Games, Summer Deaflympics, Olympic Games, and help her @361clinic family achieve all of their personal goals!
➡️ Here's to many more years of service to help provide that ONE degree of difference!
http://www.361clinic.com/wp-content/uploads/2021/06/16-years-chiro.jpg
747
637
Melanie Lopes
http://www.361clinic.com/wp-content/uploads/2016/10/361_logo.png
Melanie Lopes
2021-06-24 14:37:12
2021-06-24 14:37:12
Dr. Lopes celebrates her "Sweet 16" Chiroversary!