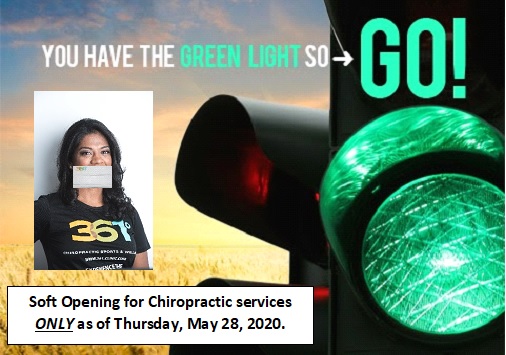 Late last night we got the GREEN light to gradually restart "all deferred and non-essential and elective services" for CHIROPRACTORS.
.
🔥Since this is very short notice, we will start with a soft opening, starting Thursday, May 28th through to the morning of Saturday, May 30th.
.
.
➡️ Please be patient as we anticipate many of you will be wanting to book in for a treatment. We will get to you ASAP!
.
.
➡️ We ask you to please email: drlopes@361clinic.com OR call the clinic [647] 874-2434 to book your appointments.
.
.
➡️ Screening by phone or email will have to be done before any appointment is booked.
.
.
➡️ Stay tuned tomorrow for "10 Steps to Follow Before your Appointment at 361 Degrees Chiropractic Sports & Wellness".
.
.
➡️ As of late May 26th, we have not heard any directive with respect to Registered Massage Therapy. Please stay tuned.
.
.
Stay tuned to this Friday's e-newsletter for any further updates.
.
.
We are just rolling with how quickly things are changing, and did not anticipate this announcement close to 9pm last night 😮!
.
.
Dr. Melanie Lopes is looking forward to seeing you all (with a mask) after the 72 day hiatus 😉!
http://www.361clinic.com/wp-content/uploads/2020/05/Green-light-GO-May-27-2020.jpg
355
506
Melanie Lopes
http://www.361clinic.com/wp-content/uploads/2016/10/361_logo.png
Melanie Lopes
2020-05-27 17:05:21
2020-05-27 17:05:21
Dr. Lopes has go the ahead to start CHIROORACTIC services as of Thursday, May 28th!